In Book/Library Club, we read an assigned book, and during club days, hold discussions on assigned readings as well as help Mrs. Bryan with regular library maintenance.
September 30th
October 28th
November 18th
January 27th
February 17th
March 31st
May 12th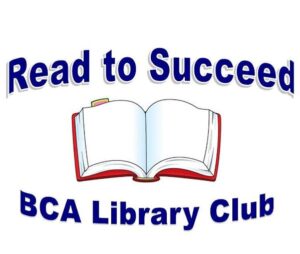 Club Name: Book/Library Club
Dues: Purchase of a club T-shirt if desired. 
Meetings: Monthly
Member Eligibility: 
Scholars in grades 2–8 with a GPA of 2.4 are eligible for membership in this club.
Approximately 20 5th-8th graders will be selected.  Members are required to complete an application in order to be considered for membership.
Club Officers:  None
Membership Requirements: 
Members will be required to volunteer time to work in the library either at morning or afternoon recesses.  The number of volunteer hours required will be determined by the club sponsor based on the current needs of the school library.  Scholars not working their required time may be placed on probation.  A sign-in log will be used for documentation of volunteer library hours.
Members must attend and fully participate in the monthly meetings.
Members must be active in the Accelerated Reader program.
Members must demonstrate appropriate and respectful behavior at all times.
Probationary Status: 
A student earning less than a 2.4 GPA in a given grading period will be placed on probationary status for the following grading period.  The member will be given two grading periods to reclaim a minimum 2.4 GPA.  If the GPA requirement is fulfilled the member will be keep full membership in the club.  If the GPA requirement is not fulfilled the scholar will lose membership.  Reinstatement to the club may occur when a cumulative 2.4 GPA is achieved.  
 A scholar earning a discipline referral for any reason will be placed on probation.  Upon receiving the second referral, membership may be revoked. All members are expected to participate in club meetings and events, as well as demonstrate appropriate and respectful behavior at all times.  Members not complying with the club's requirements may be placed on probation.
Procedures for Dismissal: At any time a member is placed on probationary status, written notification detailing the infraction will be given to the scholar, parent and school administration. A conference can be scheduled if deemed necessary by the scholar, parent, club sponsor, or administration. Club membership will be revoked if terms of the probationary status are not met or for severe and/or habitual violations which will be determined by the club sponsor with support of the school administration.