EarlyAct™ is a school-wide service club for elementary students from ages 5 to 13. It is sponsored by the Thibodaux Rotary Club. The mission and operation of EarlyAct™ are closely linked to the ideals of Rotary and provide the foundation and natural succession into Interact.
EarlyAct™ provides young students the opportunity for gaining an increased awareness and knowledge of their community and the world. At a young age, all students can easily be encouraged to be caring and helpful. Their minds are open to recognize the dignity and worth of each individual which builds respect for others.
EarlyAct™ also engages students in character-building activities and prepares them for leadership roles to identify and carry out projects which benefit their school, local and global communities.
September 30th
October 28th
November 18th
January 27th
February 17th
March 31st
May 12th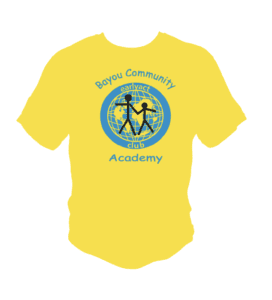 Club Name: Early Act
Sponsor(s): Alexis Arabie and Alicia Cortez, Co-Sponsor(s): 
Dues: $5 and purchase of a club T-shirt.
*Club T-Shirt Required
Meetings: Monthly
Member Eligibility:
Scholars in grades 2–4 with a GPA of 2.4 are eligible for membership in this club. Scholars in kindergarten and 1st grade may be invited by a teacher to participate. 
Club Officers:   President, Vice President, and Secretary
Membership Requirements:
Members must participate in club sponsored community service projects.
Members must attend and fully participate in the monthly meetings.
Members must demonstrate appropriate and respectful behavior at all times.
Probationary Status:
A student earning less than a 2.4 GPA in a given grading period will be placed on probationary status for the following grading period.  The member will be given two grading periods to reclaim a minimum 2.4 GPA.  If the GPA requirement is fulfilled the member will be keep full membership in the club.  If the GPA requirement is not fulfilled the scholar will lose membership.  Reinstatement to the club may occur when a cumulative 2.4 GPA is achieved. 
 A scholar earning a discipline referral for any reason will be placed on probation.  Upon receiving the second referral, membership may be revoked. All members are expected to participate in club meetings and events, as well as demonstrate appropriate and respectful behavior at all times.  Members not complying with the club's requirements may be placed on probation.
.
Procedures for Dismissal: At any time a member is placed on probationary status, written notification detailing the infraction will be given to the scholar, parent and school administration. A conference can be scheduled if deemed necessary by the scholar, parent, club sponsor, or administration. Club membership will be revoked if terms of the probationary status are not met or for severe and/or habitual violations which will be determined by the club sponsor with support of the school administration.